Evil Donut
, and is enemies with Evil Donut and
DeliciousBakedPie
. Alien Donut first appeared in
Food Orb 6
.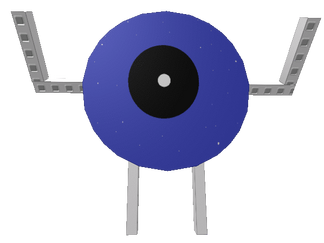 Alien Donut's appearance is the same as Evil Donut's, except that Alien Donut's colors are the inverted version of Evil Donut's colors.
In Food Orb 6, Alien Donut first appeared. In the storyline part, DeliciousBakedPie and Evil Donut are both shown inside DeliciousBakedPie's house. But then it all turned into green ambient, and the entire house got abducted into Alien Donut's UFO. The UFO had an old design, and introduced the metal spikes. At the end of the level, Alien Donut was pushed off into the deep emptiness of space.
Alien Donut's Return
Alien Donut returned in
Food Orb 8
in a revived form. Alien Donut appeared with dirt marks and stitches. In the level, Alien Donut trapped Evil Donut's team and DeliciousBakedPie inside a cage inside the UFO.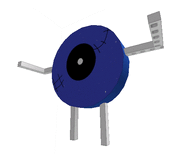 The cage had rising green ooze on the floor. The user in the level had to get to the end of the level before the green ooze rises to the top of the cage. At the end of the level, Evil Donut and his team (including DeliciousBakedPie) was freed from the cage. After that, Evil Donut smashed the UFO's reactor core and the UFO exploded before everyone except Alien Donut escaped.
Alien Donut's Revenge
Alien Donut somehow returned in
Food Orb 10
, and is still alive. Alien Donut's old UFO was destroyed, so Alien Donut built a bigger spaceship/rocket to capture Evil Donut's team, DeliciousBakedPie, and even the mascot. (Tall Purple Monster) Near the end of the level, Alien Donut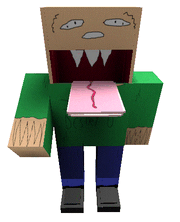 The
monster that Alien Donut created as the final challenge]]gave the entire team one final obstacle to pass. It was a giant monster with navy blue pants and a green shirt saying "I WIL DESTRY U". After that, Alien Donut gave up after being defeated, and then decided to take over the Shadow Apprentice's world.
Trivia
Alien Donut is only an inverted version of Evil Donut, which makes it quite similar to Photo-Negative Mickey from Five Nights at Treasure Island, a horror game based off of Disney and Five Nights at Freddy's.
Alien Donut probably has special abilities because of Alien Donut's black-colored eyeball.
Alien Donut is known to have his own simple ray gun in Food Orb 6.
A badge of an egg version of Alien Donut is obtainable in Food Orb 8.
Gallery
Community content is available under
CC-BY-SA
unless otherwise noted.