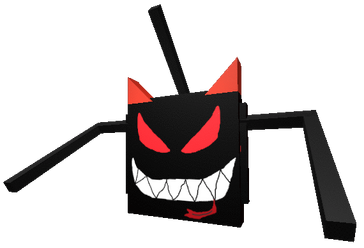 Darkman is a character that never appears in the Food Orb series, but appears in a new orb series called the
Greenboy
Orb. Darkman is also known to be the strongest character in the team, and the creepiest one. Darkman is a character originally created by a user named BadTheBloxxer.
Darkman's appearance is a black-colored Greenboy-shaped body, with two arms like Bluegal and Goldboy, except the arms are pointed to an angle. Darkman also has red evil eyes, with a mouth with sharp teeth in it. A red forked tongue can also be seen hanging from it. Darkman has red horns, with a 3rd arm connected to the back. Darkman appears to have red hair on his back, similar to Greenboy.
Trivia
Darkman is currently the most devil-like character that DeliciousBakedPie added to the Greenboy Orb series.
Darkman is very strong, due to Darkman looking very devil-like and for having a 3rd arm.
Darkman is the only character in Greenboy's team to have a 3rd arm or tail on his back.
It has been once told by BadTheBloxxer (creator of Darkman) that Darkman is actually Greenboy's father that wants to train Greenboy, and that Greenboy is not completely the ruler, but Greenboy is to be chosen by Darkman to be the leader of the team. It has never been proven yet, and is probably not a true fact picked by DeliciousBakedPie (creator of the series).
Gallery