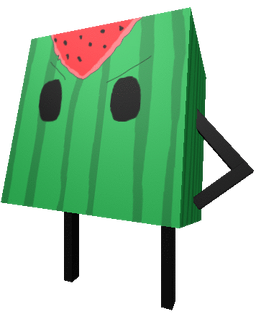 Evil Melon is one of the food villains and members of the Food Orb team. Evil Melon is originally created by a user named LaserPewPew.
Evil Melon's appearance is the body of a watermelon with a face on it. Evil Melon has black stick limbs, like any other character does. It is unknown why he has an open split on his forehead.
Evil Melon's first appearance was in Food Orb 14 - Creepypasta Land. Evil Melon's VERY first appearance was in a decal that was made by LaserPewPew. It was a decal that had some Food Orb villain ideas in it. Evil Melon was one of the ideas, and
DeliciousBakedPie
picked that idea. Soon, Evil Melon was made into a model. Evil Melon's limbs were originally thick, but DeliciousBakedPie edited it to make them thin.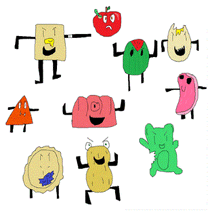 Trivia
Evil Melon is probably a strong character, since he is almost bigger than the other Food villains.
Food villains usually do not have black oval eyes, which are the kind of eyes Evil Melon has. The other being Evil Cheesecake.
Evil Melon is one of the characters that do not have a mouth. Some of the other ones being Evil Oreo and Evil Recycle Bin.
To the left of Evil Melon's drawing by LaserPewPew with the other villain ideas, there is a villain idea named Evil Pancake. LaserPewPew made this idea a model for himself. He also seemed to make a toy version of it in one of his Laser Orb games.
Evil Melon has an original model of himself, made by LaserPewPew, but it did not have a top decal on him. It also had thick arms and legs, but DeliciousBakedPie fixed the top and made the limbs thinner.
Evil Melon appears to be very similar to one of those block-shaped Watermelons that are produced in Japan.
Gallery