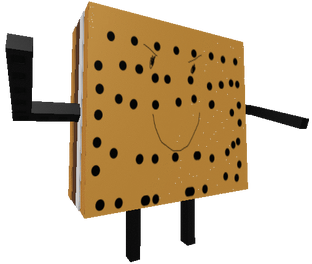 Evil Smore is one of the Food Orb Villains from the Food Orb Team. He first appeared in Food Orb 5 - Europe, along with Evil Oreo. Evil Smore is originally created by a user named CrazyROBLOXAddict.
Evil Smore's appearance is obviously a smore with black spots on the front and back sides. Between his body are some chocolate and vanilla creaming. He has black stick limbs, like any other character does.
It is known for Evil Smore to like putting/adding down spikes to block users from saving DeliciousBakedPie.
Appearance from Dark Orb 10
Evil Smore also had an appearance from Dark Orb 10 inside the scary shortcut area. A different version of Evil Smore is created by Tinfoilbot.
Why was Evil Smore in it?
Well, it started when the monster contest for Dark Orb 10 started.
CrazyROBLOXAddict (which is the same creator of Evil Smore) decided to enter a drawing of Evil Smore into the monster contest. The monster entry somehow won, and Evil Smore got to have his own small Tinfoilbot-designed character in the game.
The Wizard Past
It has been confirmed by CrazyROBLOXAddict that Evil Smore used to be a wizard robloxian, until a curse had happened on him, and turned into a smore (Evil Smore). DeliciousBakedPie was gonna add it to Food Orb 0, but had either decided not to, or either forgot about it. Nothing much is known about this information.
Trivia
Evil Smore is one of the only Food Orb characters to have a remade version of him from Dark Orb 10, by Tinfoilbot. The other remade character from the same game being Evil Donut in a secret area instead of inside the scary shortcut part.

Unlike Evil Donut from Dark Orb 10, Evil Smore is very noticeable about him being very small.
They both also have similarities, as they are both from the Food Orb, and are both food characters. Another thing that people probably don't notice are the holes around their faces. Evil Smore has a cracked hole with vanilla creaming inside of it, while the remade Evil Donut model has a cracked hole in him as well, instead it has either raspberry or cranberry inside of him.
Gallery
Community content is available under
CC-BY-SA
unless otherwise noted.