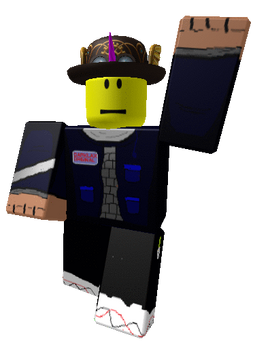 Spencergamer was a robloxian who took part to save
DeliciousBakedPie
in Food Orb 2 - Japan, along with
Red412
,
Micky455
, and Boydjrocker.
Spencergamer
Spencergamer is the creator of the Shadow Apprentice series, and the creator of Master Boing Boing. His roblox avatar has Tinfoilbot's Darklax hoodie and chasermar16's fan pants. His head is yellow, wears the pink unicorn horn, and Steampunk bowler. He also has the star face. Spencergamer is one of DeliciousBakedPie's old friends. Spencergamer only appeared once in the Food Orb series, and that appearance is in Food Orb 2 - Japan. In the game, he isn't scared like the other robloxians of the scary shortcut, and is more observant too.
Trivia
Master Techhead (one of Spencergamer's villians) was Master Techbot's partner in the "Master Techbot" series.
Spencergamer is one of the only Orbers who doesn't use the defeat face.
Spencer didn't make any of his clothing.
Spencer usually feels left out of orbing these days, either he because he isn't active with orbing, or he is busy doing other things. It depends how you look at it.                                  
Spencergamer has gone back to orbing somewhere during June 2015.
Gallery
Community content is available under
CC-BY-SA
unless otherwise noted.