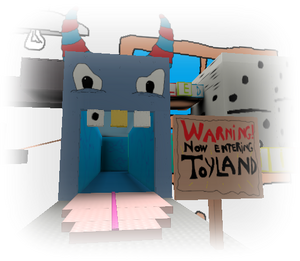 Toyland is a place/location in the Food Orb series. It is a place filled entirely with toy monsters, domino-like buildings and other strange things that would only be commonly found in a regular bedroom, despite having a bedroom background in the game. Toyland only appears in one Food Orb game, and that is Food Orb 9. In Food Orb 9, Evil Donut captures DeliciousBakedPie and cages him up in Toyland. Toyland has many obstacles, just like in every other location, world and dimension. The monsters in Toyland include eight-ball monsters, a big tick, rubber ducks, a plush doll of Poe the Dragon, which is a cameo, and even a giant domino monster.
Tall Purple Monster's House
Tall Purple Monster has a known home in Toyland, which is purple with a zig-zagged pattern on the inside. It has a yellow roof, similar to DeliciousBakedPie's house. An animated television screen with Tall Purple Monster resides inside of it, with a small bed and a DeliciousBakedPie plush on the lower shelf. The house has only one window with it. The house appears to be next to the giant TV in Food Orb 9. If you get inside of the house in Food Orb 9 then you will be awarded a badge for doing so. The only way to get inside is to follow a nearly-invisible path.
Gallery
Community content is available under
CC-BY-SA
unless otherwise noted.